If the first month was any indication on how the rest of the year will perform…Yorkville residents have a lot to celebrate!  January saw 29 sales take place, that's almost double the 15 that occurred the same time last year.
8 Park Road and X condos were tied for the most amount of sales, with 4 a piece!  Crystal Blu followed close behind with 3 (one of which the BloorCondos Team sold).  The most popular layout was the one bedroom floorplan with 11 sales. We believe this was a result of investors cashing out on X and Crystal Blu.  A three bedroom unit with over 2700 sf recorded the highest price of the month fetching over $2,500,000 in less than three weeks. The best deal was negotiated down to 87% of asking and the highest paid price was recorded at 109%!
Very soon both Exhibit and The Yorkville Condominiums will be launching…check back for more info and take advantage of an early opportunity to buy into one of these luxury projects!  Contact theBloorCondo Team for more info.
Baker Realty recently tweeted about the soon to be released "City Suites" at One Bloor!  From what we've been able to gather, it looks like the floorplans will be available in a variety of sizes ranging from 1 bed to 2 bed plus dens with prices starting in the $500,ooo's.  Along with the new layouts, we'll also get to see the new sales centre!
We helped several clients get in early during the initial brokers launch and would be more than happy to do the same for those looking to buy the soon to be release "City Suites"!  If you'd like to be notified on the launch, contact the BloorCondos Team!
It looks like the The Yorkville Condominiums will have some tough architectural competition to compete with in 2011!  The Rudy Wallman designed project has been getting a lot of attention and praise for it's unique design, coloured glass, and varying angles…BUT thanks to BuzzBuzzHomes blockbuster news break, we now have another project pushing the boundaries of design in Yorkville.  Bazis International (think Crystal Blu a few blocks away) is teaming up with Metropia Urban Landscapes and Plazacorp to develop Exhibit Residences at 200 Bloor St. West!
BuzzBuzzHomes also reported that the project will be 32 storeys tall and will feature 200 units.  The sales centre will be at 162 Cumberland St. and prices are to start in the $500,000′s.  It looks like Bazis is sticking with their archittect of choice, Roy Varacalli for Exhbit.  The inital rendering isn't very detailed, but gives us a good idea on the shape Exhibit will one day take.  The protruding angles should fit in well with ROM across the street!  Some other noteable features of exhibit include: Lounge, Bar,Private Dining Room, Caterers Kitchen, Party Room, Fireplace, Rooftop Terrace with Pool, Workout Facilities, Yoga Studio and fire Fireside Lounge.
We're very excited with what we currently know and will be bringing more updates on The Exhibit Residences in the near future!  Contact the BloorCondos Team to be notified about Exhibit Residences.
A BIG thanks to BuzzBuzzHome for breaking the story!
UPDATE *We sold this unit in under 6 days making it one of the FIRST sales at Crystal Blu since registering! If you're thinking of buying here, or have a suite to sell contact the BloorCondos Team!*
The BloorCondos Team has a brand new listing at Crystal Blu!  This one bedroom suite is available on the 15th floor and has views to the west over looking the Manulife Centre.  It's an open concept layout with 10 foot ceilings and engineered dark hardwood floors. The suite is approximately 600 square feet but having the large ceiling heights (compared to a unit with 8 foot ceiling heights) really adds to the airy feel of space. The kitchen features Scavolini designed cabinetry, flat surface stove top with range, stainless steel fridge and dishwasher as well as a built in microwave under the granite island!  Check out the video and photos below: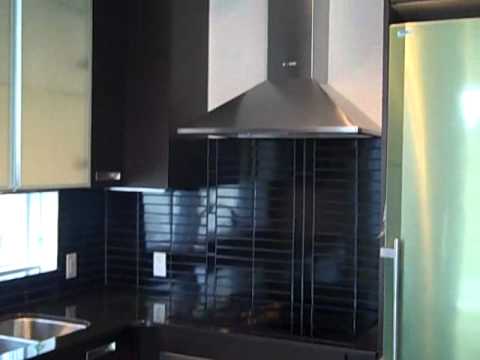 Crystal Blu comes equipped with an outdoor pool, party and separate meeting room plus a very generous sized gym considering the small footprint of the building.
If you're interested in setting up a private viewing of this suite, or if you already own one and would like to know how much yours is worth, contact the BloorCondos Team!
Residents of the soon to be completed Crystal Blu are one step closer to owning their piece of Yorkville.  Last week one of our clients informed us that letters were sent out to purchasers letting them know that building has now registered with the City.  This means that final closing will be taking place in the coming weeks!
Currently five units are for sale on the MLS from the developer including two of the penthouses! The price per square foot ranges from approximately $760/sf to $800/sf and between $1180 – $1218 for the penthouse suites.
Later in the week we'll have exclusive pics from on of the newly completed condos!  If you'd like to know how much your unit is worth, contact the BloorCondos team for an evaluation!